Cuckolding Fun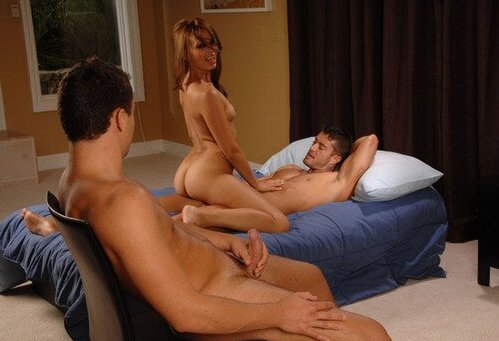 In the past being cuckolded by your wife was a cause of shame for guys. These days a growing number of guys enjoy being a cuckold, either because they like to watch their wife having sex with another guy, or because they like to have sex with their wife after she has been out fucking other guys.
Within the swinging scene cuckolding is a fantasy scenario being acted out by the couples. A wife who plays away without her husbands knowledge is a cheat and in the eyes of most swingers not to be trusted. (the same as swingers treat married men treating on their wives).
Cuckolding takes many forms depending upon the tastes and fanatsies of the couples.
Some ladies go to the same extremes as I have and have cougar paws tattooed on their breasts or inner thighs to let everyone know that I am a Cougar who cuckolds her husband.
Below we have explained some of the scenarios in the cuckolding scene, we are sure there are many that we have not come across ourselves yet. If you want to expand on this topic send us the details and we will be happy to add your information.
Join Us Now
Solo Dating
This is the most common form of cuckolding. The wife goes out for the evening/night with another guy. Depending upon the fantasy, she may or may not tell the husband she is going out, she may call him during sex and let him listen, she may even use her mobile to take pictures of the guy fucking her and send them to her hubby.
Creampies
A major element of cuckolding is the cum. Husbands often want to see his wife's pussy full of another guys cum. For some it enough just to see the proof of his wifes infidelity, others will want to fuck her while she is still sticky, others will want to perform a cleanup.
Cleanup
As fantasies develop, they take in different scenarios. Cream pie cleanup is a very common feature in cuckolding, where the husband is "made" to clean the lovers cum from his wife's pussy. It can also extend to the husband being mde to lick the lovers cock clean as well.
Humiliation
Some players like to create a "humiliation" element to the game. This can take the form of being forced to watch, being made to prepare and cleanup the wife and her lover, or being restrained, or being verbally ridiculed by the wife and her lover. This is often in the form of pouring scorn on the husbands penis size and or his abilities as a lover. Sometimes wives will advertise for lovers scorning her husbands abilities.
Forced to Watch
The cuckold fantasy can also extend to the man being "forced" to watch*. Depending upon the fantasy he may just be made to sit or stand and watch, or he may be restrained by ropes or cuffs.
In some scenarios the husband may be made to get the couple ready by licking his wife's pussy until she is wet and sucking the lovers cock to make him hard.
Some couples allow the husband to join in, sometime he is made to wait until after the lover has had his fun.
Sissying
This is taking the humiliation a bit further, the husband may be "forced" to dress as a woman while being made to serve his wife and her lover. In some cases this can extend to allowing the wife's lover to have sex with the husband.
Black Lovers
Not so much of a phenomenon in Europe, but in the USA where there are more inter racial taboo's, some white wives will only cuckold their husbands with black lovers. In some cases the wives go as far as having a black ace of spades tattoo, this is a sign that she is only available for black men.
Young Lovers
A lot of older women fantasize about having sex with young guys. Happily there are a lot of young guys that enjoy having sex with older women. Don't be shy about cuckolding your husband with a (much) younger guy. You will enjoy his stamina and ability to repeat perform. He will enjoy your greater sexual knowledge. Young guys enjoy being picked up by a cougar.
Reverse Cuckolding
This is where the wife is the one who enjoys her husband "cheating" on her. It is not as common as cuckolding, but we have been assured that it does happen.
Please remember: All of the scenarios above are part of fantasy play by couples, so the husband is actually a willing participant, no-one is acting under duress.
Join Us Now